So for this experiment I interviewed my sister, Manda, on what digital communications does she use and like and she interested in creating a personal fashion blog that will hopefully one day make her money. But in order for her to have nice photos she needs to get all dolled up. She's been saying it everyday she needs to find a good place to blow dry her hair so she can take photos for the blog. Perfect situation. So I created a IFTTT recipe for her when a new craigslist post comes out for a blow drying service around our Yonkers, NY location it will tweet "Helping @mandalukic beautify herself for her blog pictures http://ift.tt/1GracDU"  
below are screenshots of the recipe and the twitter account its linked to: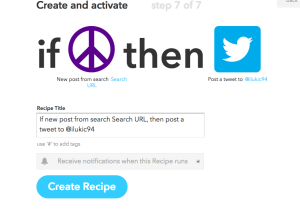 The interview went like this:
Q: What types of digital devices do you use and with do you like the most?
A: " I use digital media all the time, everyday. Facebook, Instagram, Tumblr, Twitter, and Pinterest. My favorite is Instagram. I want my page to go viral and to be successful in affiliate marketing
Q: Which is your least favorite?
A: Um, I'm still fairly new to tumblr and twitter so I do not use those quiet as often as facebook and instagram."
Q: You say you want to start a blog and have all accoutns of yours link to the blog. Any difficulties with these digital means that allowed you to link the blog and the accounts together. What is your struggle with these forms of media.
A: Well yes I do want to create a blog but the biggest problem I am having at the moment is having no time to get ready or to take pictures of our own. Im struggling to find a place where I can blow dry my hair due to the fact that the instagram and facebook pictures, they're linked together. The key to a successful page is looking pretty and after work I really don't look so amazing.